Rothor related,
http://www.mazda.com/mazdaspirit/rotary/hre/index.html
http://www.media.mazda.com/Access/material/kit/hydrogen_re/M7E0052.pdf
http://www.mazda.no/AboutMazda/Environment/Hydrogenveien/
http://www.dagsavisen.no/bil-trafikk/article327067.ece#tip
http://www.tu.no/samferdsel/article120879.ece
http://www.edmunds.com/insideline/do/News/articleId=123351
http://www.automotorsport.se/nyhetsmall.asp?version=64111 Our Favorite heading (in Swedish!)
http://www.google.no/search?hl=no&rlz=1T4ADBF_noNO244NO244&q=Mazda+hydrogen+Norway&meta= (initially 116.000 hits!)
http://www2.norway.or.jp/business/news/hynorm_mazda.htm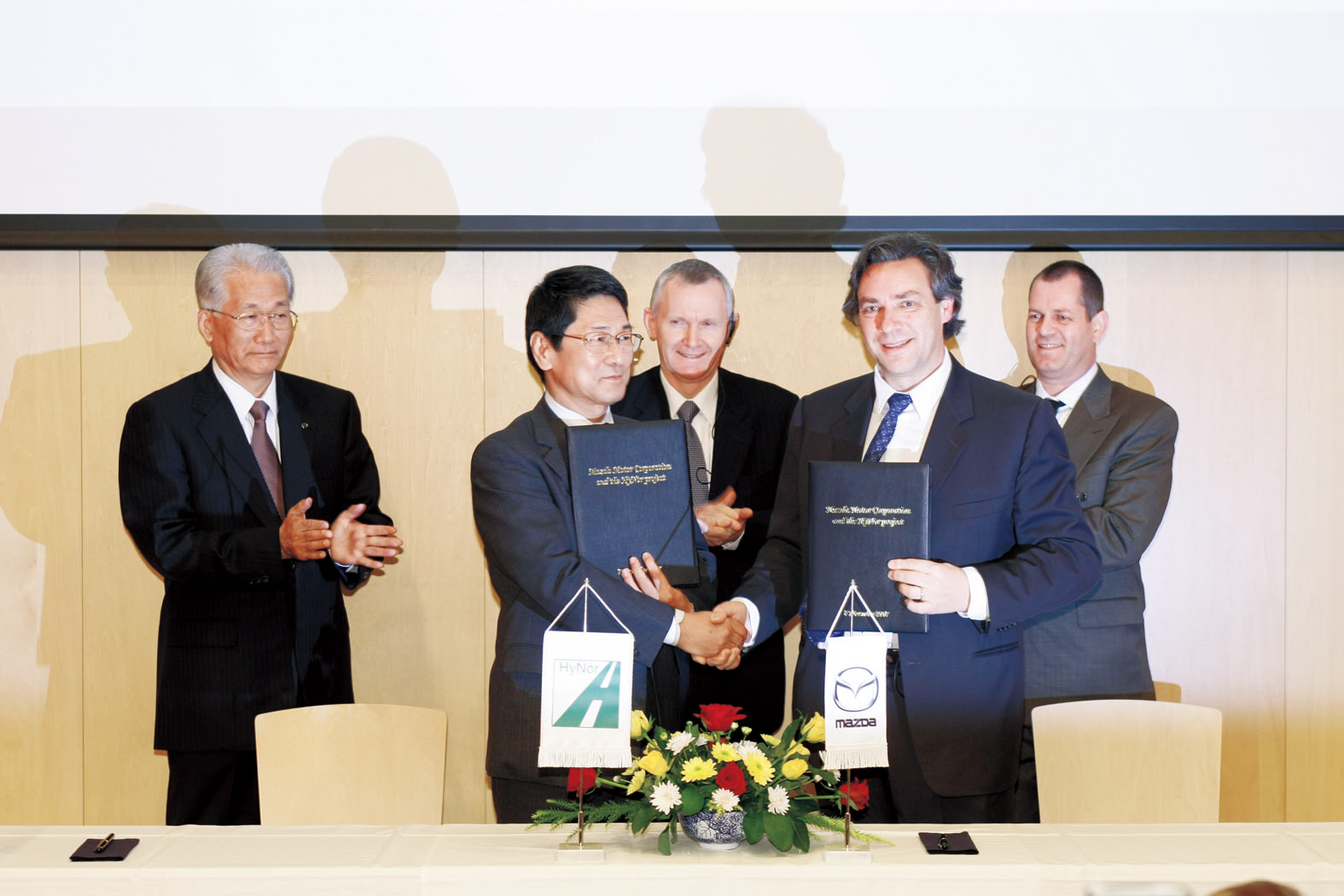 From Mazda HyNor pressrelease,
2007.11.07

Mazda to Participate in Norwegian National Project HyNor by Providing Hydrogen Cars to Norway From Summer 2008

HIROSHIMA, Japan - Mazda Motor Corporation and HyNor (Hydrogen Road of Norway) will collaborate in the development of hydrogen fuel and hydrogen vehicles. This was formally agreed at a signing ceremony held at the Norwegian Embassy in Tokyo today. His Excellency Mr. Åge B. Grutle, Norwegian ambassador to Japan, and Mr. Hisakazu Imaki, Mazda's president and CEO, attended the event, at which Mr. Ulf Hafseld, chairman of HyNor, and Mr. Seita Kanai, Mazda's director and senior managing executive officer in charge of Research and Development, signed a memorandum of understanding for collaboration and support in the development of a hydrogen economy. The memorandum states that HyNor intends to purchase 30 Mazda RX-8 Hydrogen RE vehicles commencing in summer 2008. For Mazda, these will be the first hydrogen vehicles sold outside of Japan.
"I very much welcome the agreement between Mazda Motor Corporation and HyNor. The agreement illustrates that HyNor's efforts to contribute to the development of hydrogen-based technologies are recognized by Mazda as a major global actor in this field" said H.E. Mr. Åge Grutle, Norwegian ambassador to Japan. "The partnership between HyNor and Mazda is also very encouraging for Norway's broader efforts to strengthen its cooperation with Japan in promoting research and technologies within the context of climate change mitigation, including a hydrogen society. For the Norwegian Embassy it is a top priority to support these efforts, working in close collaboration with Innovation Norway and the Research Council of Norway."
"HyNor is very pleased to sign this agreement with Mazda and we think this cooperation will speed up the process of introducing hydrogen as a zero-emission fuel" said Ulf Hafseld, chairman of HyNor. "By using the Internal Combustion Engine as a feasible technology to accelerate realization of the real hydrogen world, we can develop a hydrogen infrastructure much faster. HyNor is focusing on a carbon neutral infrastructure, and using hydrogen in the Mazda cars will ensure a complete carbon free line of fuel."
"This will be the first time a Hydrogen RE vehicle will be sold outside Japan and this is a big step in Mazda's hydrogen vehicle development history", said Mr. Seita Kanai, Mazda's director and senior managing executive officer. "Perhaps Norway is one of the countries closest to the realization of a hydrogen energy society. By cooperating with HyNor and jointly supporting the development of a hydrogen economy, we hope that Mazda will be able to contribute to the establishment of a hydrogen society."
HyNor is a unique Norwegian joint industry initiative to demonstrate real life implementation of a hydrogen energy infrastructure along a route of 580 kilometers from Oslo to Stavanger in Norway. The project comprises all steps required to develop a hydrogen society with adaptation to local conditions. The joint project is planning for various means of transport: buses, taxis and private cars and varying types of transport systems: urban, inter-city, regional and even long-distance national transport. In August 2006, Mazda attended a ceremony which commemorated the opening of Norway's first hydrogen filling station created by HyNor. This is also where the first on-road demonstration of a RX-8 Hydrogen RE vehicle outside of Japan was held.